2020 se termine enfin. En attendant les "lettres Remington" continuent d'arriver. Elles seront bientôt visibles ici...
White Isles of the South Sea / 2015-2018
---
FILM
Colour / 16 mm / 11'
A film by Aline Diépois & Thomas Gizolme

BOOK
Leporello
38 pages
32 Black & White Plates 6 colour plates
8 copies Signed & Numbered

Exhibition
Galerie VU' Paris Feb - March 2018
Paris Photo November 2018

Synopsis
On the water's surface, a thin band of sand lingers on a belt of iridescent foam. Nothing is more gracious than these white islands barely emerging above the waves.
Under the blazing sun, time comes to a halt.
In Tarawa, a single road links the North and the South, overloaded with cars, motorcycles and minibuses. Behind clouds of dust whipped up by the incessant coming and going of vehicles, the inhabitants slowly, very slowly pace up and down the nameless road. The air's density here sometimes resembles a caress on the skin when, from the sparking sea, a peaceful murmur briefly rises. As if one could feel the world and its deceptive impression of being a welcoming place, made to fit man's strangest dreams and desires.
However, the lagoon is polluted and rusting car parts pile up in heaps. Each tide disrupts the waste gripping onto the mangroves. And the ocean waves wear down the shore a little more every day.
They break over the useless sea walls and endlessly nibble at the fragile territory. Unhurriedly, the village people consolidate their absurd remparts and reconstruct their houses in vain. And at times it rains in the middle of the dry season.
Paradise is falling apart.
télécharger démarche et note d'intention (french)
PDF ︎
---
Front & Back Book Cover
Untitled
#5
Untitled
#22
Untitled
#36
Gilbert Islands Map (design The Howl)
Tarawa Map (design The Howl)

Artist Book Preview


Film 16 mm Colour - 11 min.
Exhibition vue Paris Photo 2018
---

Now sit back, relax and listen the sound of The White Isles...


A Necessary Horizon / 2017
---
BOOK (Abstrakt Architecture)
84 pages / Hardback / Clothbound / 27 x 31 cm

€ 40.00 incl. VAT


Après Ano Meria / depuis la ligne de crête / des yeux / j'ai suivi / les lignes des terrasses / au-dessus d'Ambeli
embrassé l'horizon nécessaire / tracé un trait / une ligne / entre les lignes / la maison / d'où je vois / le sillon du ferry / qui t'amène ici

This book is a collaboration between Aline Diépois & Thomas Gizolme with the Architecture Studio" Abstrakt architecture" in Folegandros (Greece)
---
Book Slipcase & Hardbound Book Cover
---
spread
p22
spread
P12
spread
P78
double spread
P48
---
Page de garde
Abstrakt Zermatt / 2012 - 2017
---
BOOK (Steidl)
96 pages, 73 images
Hardback / Clothbound
23 x 30 cm
English
€ 40.00 incl. VAT

Exhibition
Kunst Haus Zermatt 2012
Museum of Contemporary Art Roma (MACRo) 2013
No Found Phot Fair Paris 2014
Rencontres photographique Jeu de Paume 2017
Galerie VU' Paris 2018

Prints
11 Pigment prints 100 X 120 cm
14 Polaroids 4X5'

Introduction Ni romantique, ni topographique
, souvent presque abstrait ou elliptique, le paysage témoigne de l'espace de la relation qui se construit en photographiant, de lieu en lieu, voyage après voyage.
Abstrakt Zermatt est une randonnée photographique dans les Alpes suisses avec pour camp de base la ville de Zermatt au pied du Cervin. Une «patrie» pour la Suissesse Aline Diepois, le lieu de l'enfance, de la famille, un «chez moi» qui avec temps et le travail photographique est devenu un «chez nous». La série a d'ailleurs la couleur du souvenir, de ceux que l'on invente à force de rêver,
comme si le temps s'était transformé en espace
. La mise en page, également signée par les auteurs, renforce le caractère imaginaire du paysage, en créant des vis-à-vis inattendus, des cadavre exquis visuels.
On entre en Abstrakt Zermatt avec la sensation de descendre dans le profond d'un songe, de ceux qui vous rappelle à l'étrangeté du monde.

Caroline Bénichou
---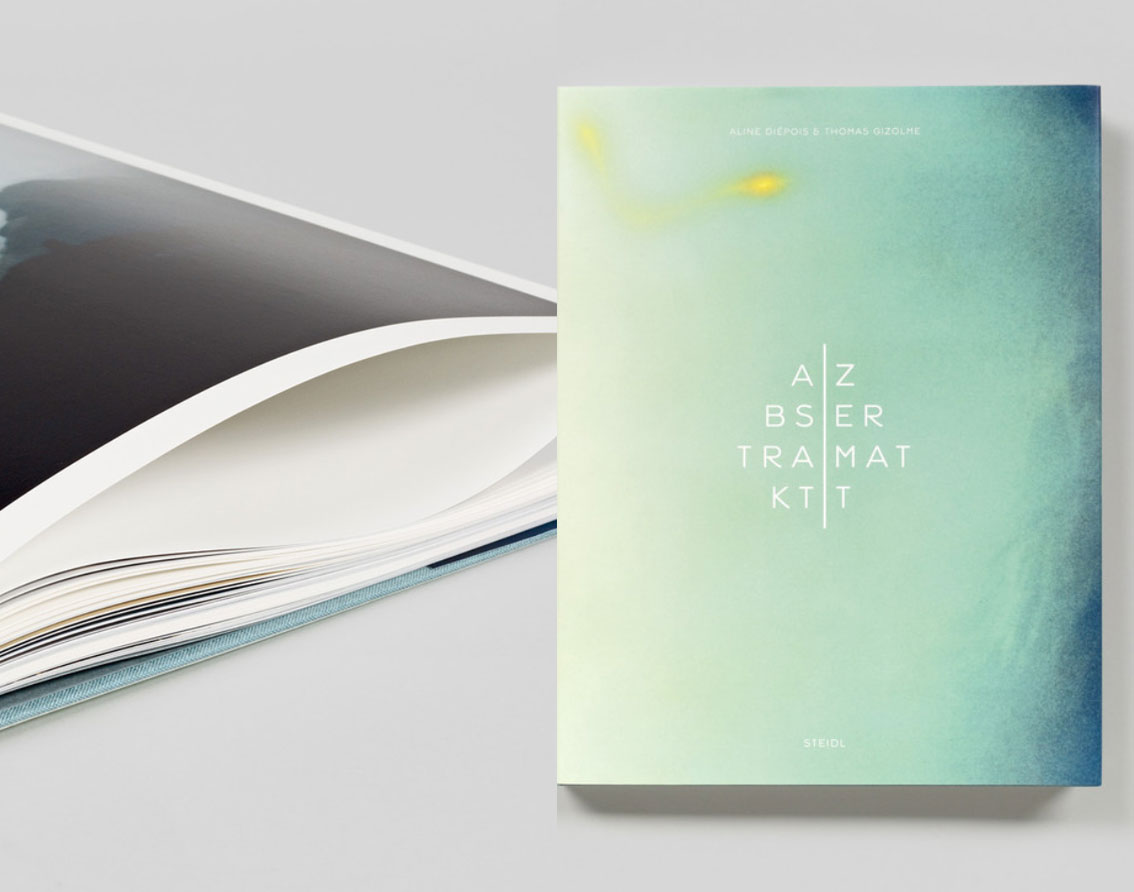 Book preview(Steidl) / design and typography The Howl

---
spread
P32
spread
P48
spread
P78
Double spread
P54
Exhibition vue Galerie VU'
Museum of Contemporary Art Roma
Interview Galerie VU' Feb 18
Hong Kong Blues / 2012-2013
---
BOOK
Text Hoaggy Carmichael
24 pages, 18 colour plates
softbound with Japanese clips
15 x 20 cm
Signed & Numbere Including a Polaroid
€ 70.00 incl. VAT
Exhibition
Brown London 2013
Prints
18 Pigment prints 100 X 120 cm
14 Polaroids 4X5'
Introduction
L'ensemble de ces photographies ont été réalisées à Hong Kong sur une durée très courte, 48h. Le décalage horaire, la chaleur et l'humidité avaient eu raison de nous. Hébétés, nous marchions au hasard, traversant un marché coincé entre deux gratte-ciels, débouchant à Kowloon, fascinés par l'urbanisme comme par la nature. Le titre «Hong Kong Blues» vient d'une chanson de Hoagy Carmichael en 1929 où un fumeur d'opium déambule dans la ville cherchant désespérément de la drogue et un refuge. Ces photographies sont tirées d'un livre autoédité à 50 exemplaires signés et numérotés.

Song by Hoaggy Carmichael
It's the story of a very unfortunate colored man
Who got arrested down in old Hong Kong
He got twenty years privilege taken away from him
When he kicked old Buddha's gong And now he's poppin' the piano just to raise the price
Of a ticket to the land of the free
Well, he says his home's in Frisco where they send the rice
But it's really in Tennessee That's why he said, "I need someone to love me
I need somebody to carry me home to San Francisco
And bury my body there
I need someone to lend me a fifty dollar bill and then
I'll leave Hong Kong behind me for happiness once again" Won't somebody believe
I've a yen to see that Bay again
Every time I try to leave
Sweet opium…

---
Front & Back Cover with Polaroid on top(Self Publishedl
---
spread
P2-3
spread
P12
spread
P20
Double spread
P20
Drawing
P22
Dust Book / 2010
---
BOOK (Steidl)
84 pages, colour
Hardbound 19X24 cm
OUT OF STOCK
Exhibition
Acte2 Galerie Paris 2010
Paris Photo 2010
Prints
18 Pigment prints 100 X 120 cm
70 Polaroids 4X5'
Introduction
"It all started when we decided to run away from Paris and catch up with the desert, over in Tucson, Marfa, Willcox and other secluded places in the States. Along the way, we often came across this sign: "Dust storm may exist." Strangely enough it reflected our mood at that precise moment. I remember a movie whose name I've forgotten right now, the hero would say: "As long as you're moving no one can get you," it must have been a war movie in which the protagonists tried to pass through bullets. This book is like that image. Through the juxtaposition of these photos and texts, we've fled one story to create another, made of pleasure and doubt, of trust and fear and mostly of laughter and jokes. Dust Book is our story."

---
Front Cover & First Page / Graphic design and Fonts by Thomas Gizolme
---
spread
P2-3
spread
P12
spread
P20
Double spread
P20